Trio of Grizzlies Set to Play College Sports
Senior at Ashland High School, Steen Fredrickson signed his National Letter of Intent to play baseball for the Montana State University Billings (MSUB) Yellowjackets next fall.
The Yellowjackets first contacted Fredrickson near the end of summer. After the coaching staff saw him play in Washington he took his official visit to the NCAA Division II school.
Fredrickson said that after his visit he "knew on the plane home, this is where (he) wanted to play."
The 2014 season was a down year for the Yellowjackets as they placed sixth in the Great Northwest Athletic Conference (GNAC) with a record of 16-30. The 2015 season looks to be significantly better as MSUB returns their top four hitters by batters average and top three pitchers by earned run average.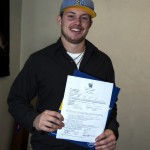 Fredrickson said that he thinks he can have an immediate impact his freshman year as a pitcher. Last year for the Grizzlies Fredrickson posted a stellar 2.32 ERA while averaging a strikeout per inning.
While speaking to the official school athletic site, head coach Rod Bishop said of Fredrickson "During the recruiting process it became apparent for us that he would be a good fit in our program. He is a solid person and student that will develop well in our program. I am excited to have Steen join our team."
Within the GNAC Western Oregon, Concordia and St. Martin's all were actively recruiting Fredrickson. Schools also pursuing the right handed pitcher were Lane Community College and Edgewood College.
Academically MSUB was a perfect fit for Fredrickson as it offered both business and education which were both majors he wanted he wanted to pursue.
Steen will begin his college journey next fall and will first step onto the mound as a Yellowjacket in the spring of 2016.
Two other Grizzlies also committed to college programs.
Georgia Williams is heading to New York City to play Division I basketball at Columbia University. Williams told the Daily Tidings "I knew once I got there, along with meeting the coaching staff, that that was where I wanted to be."
Jordan Tilley will attend Yavapai College in Arizona. Yavapai is a two year college that plays in the Arizona Community College Athletics Conference. Head coach Zach Shaver told the school website "A great setter is always our first priority in each recruiting class. When I first saw Jordan playing in the Phoenix this past July I knew immediately that she was our top choice for the position."
The Rogue News wishes the best of luck to all three at the next level.
Leave a Comment