Toys for Tots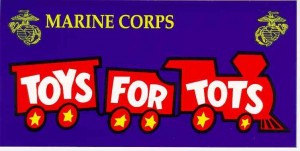 Every year, during November through December, the U.S. Marine Corps collects new and unwrapped toys to give to needy children during the Holiday season. Toys for Tots formed when Colonel William L. Hendricks couldn't find an organization that would give his wife's hand crafted doll to unfortunate children in 1947. With the Help of his wife 5000 toys were collected and distributed to unfortunate children in Los Angles that year.  In 1955 the program became an official mission of the U.S. Marine Corp. The program has given toys to over 188 million needy children over the past 62 years and continues to thrive in many other ways.
The Marines how ever cannot provide for every child by them selves. In union with Associated Television International, Build-A-Bear Workshop, UPS, Hasbro, Scholastic, Babies R Us, Toys R Us, Disney, The Coca Cola Company  and other 2010 corporate partners over 10 million dollars is raised for children over America. Toys for Tots has year round fundraisers such as multiple golf tournaments. Donations are accepted year around and local donation drop-off sites can be found on the Toy Drop-off page. Other donations can be made through the websites Donation Tab. All drop-off sites and deliveries are kept up by volunteers and the IRS has recognized Toys for Tots as a non-profit organization.
Toys for Tots doesn't just collect toys for children in unfortunate situations, but also has a Literacy Program and a Native American Program. Over 14 million children lived in poverty throughout America in 2009. The Marine Corp believes each child should have an equal chance at having a successful life.
Leave a Comment