Savannah Edson- Her Big Break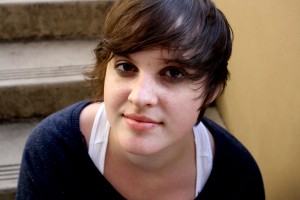 Savannah Edson, a junior at Ashland High School was cast in a lead role in the play
August: Osage County
that will open at the Oregon Shakespeare Festival in April. She will be playing Jean, a marijuana- and cigarette-smoking 14-year-old.
A casting director for OSF told Edson that she would be "perfect for the role of Jean," so she auditioned. She got a call-back and read scenes with Jeffrey King, the OSF actor playing a character alongside her. Savannah received a phone call notifying her that she got the part.
Edson can't wait to get started on rehearsals. She will be in rehearsal many times a week during February and March. The production will open on April 20th (ironic because of her character's use of marijuana in the show), and will run through the end of the season in November with two or three shows per week. She won't be making much more than minimum wage as part of the OSF company, but for Edson that isn't the point. "I'm just really excited to be in the production. It's not about the money at all; it's about the experience," Edson said.
Best of luck to Savannah and the whole cast of August: Osage County. It will be a production everyone can't wait to see.
Leave a Comment