The Hunger Games by Suzanne Collins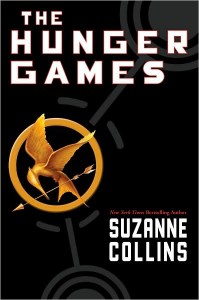 As an indecisive teenager I find it very hard to pick a favorite book (or a favorite of anything for that matter). There are just too many good books out there, and too few worth reading a second time. To me, it is also hard to read a book a second time without it losing its quality and value. So in my personal opinion, owning a book just means more rotting pages on my shelf, until I heard about The Hunger Games by Suzanne Collins. I kept hearing about the series and reading great reviews of it, but I disregarded the compliments on the novel. Finally I gave in, and borrowed the book from one of my friends, who happened to own it. Now, after reading this excellent book, I understand why anyone would keep it on their bookshelf.
Sixteen-year-old Katniss Everdeen, a girl who's fought poverty as long as she can remember, is now dreading the day of the Reaping. Every year the glistening Capitol of the nation Panem (what was once known as North America) makes each twelve surrounding districts send one boy and one girl between the ages of twelve and eighteen to contend in the Hunger Games. The Hunger Games is the Capitols cruel way of punishing the districts for rebelling as the families of the participants watch them fight to the death on live TV. But no one would have thought that Katniss's little sister, Prim, would be picked. Driven by love, experience and a desperate attempt to save her sister, Katniss, still stunned, takes her place to fight in the Hunger Games, knowing fully that this might mean the end of her life as she knows it.
Soon after the horror dies away, the boy is picked, and against all luck, it's Peeta Mellark. Peeta Mellark, the boy with the bread, the boy who un-knowingly saved Katniss and her family's lives, was chosen as well. Now the two must work together as they head to the Capitol, try to gain the most attention and love from their viewers, train their hardest and most of all, stay alive. If Katniss is to win, she must make the wisest decisions and choices that will determine her fate. The pressure is on, but can she sustain the balance of survival against morals, and endurance against love?
The Hunger Games by Suzanne Collins, is an exquisitely suspenseful and well-paced read. This novel is a non-stop, action packed, moving, and passionate book that makes you crave more. Suzanne Collins packs a perfect balance of good characters, action, and feelings into the book, which makes her style of writing pleasing. The Hunger Games is one of those rare books that gets you hooked to the series right from the start. Although I would recommend it to anyone, I would warn those sensitive to cruelty and violence in literature to steer clear of this book. Otherwise, if you have not yet read this book, and you are looking for a great read, The Hunger Games is a first rate novel that is unrivaled in teen literature.
View Comments (1)