Always a Grizz
The school board officially passed John Skinner's retirement from Ashland High School Oct. 11.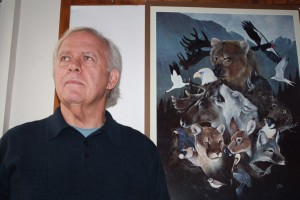 Skinner had always wanted to be a pediatrician, but the closest he could come to helping kids was being in education. Even though his mother, father and other family members were in education before he was, they never influenced Skinner. Skinner, now 72, has been in education for 42 years, and at Ashland High School for 13 of those years. Along with being a counselor for the Grizzlies, Skinner has coached golf and basketball.
"The school's community is fantastic," said Skinner. He has watched the school change both with the students and with the classes. The students have become less associated with cliques, and more blended with each other since he arrived at AHS. Programs and electives have come and gone due to funding and the bad economy. This has had an overall negative impact on the students.
Skinner loves the students, and believes that counselors should be available to the students 100 percent of the time, and hopes that the school will keep providing the resources to make kids successful. Skinner also feels that AHS will become more technologically savvy in the years to come.
When asked why he's retiring after so many years, Skinner replied that "Everyone else has left, and all my kids have grown up and gotten an education." Skinner has new goals he wants to accomplish, such as go to the four states he hasn't been to. Recently Skinner bought a motor coach so he can travel with his wife to Alaska, Maine, Vermont and New Hampshire. He looks forward to seeing new places, and having lobster in Maine.  But no matter how far away from AHS he gets, he will always be a Grizzly.
Leave a Comment