Lady Grey Tea Cookies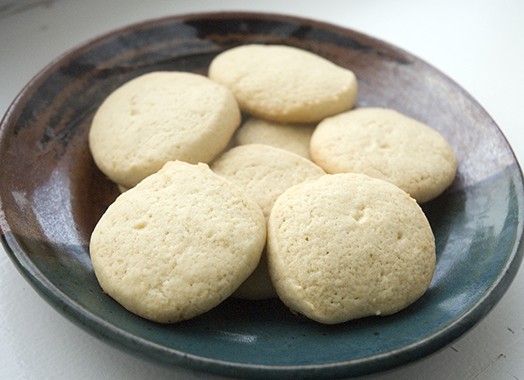 Sitting at home, lamenting the fact that I had left all of my recipes at school, I decided that the show must go on and that I would find a recipe that would both give me something to post the next day and would appease my sweet tooth. So, after looking through multiple cookbooks and a fair amount of googling, I stumbled upon a recipe for Earl Grey Tea Cookies. Suddenly, that was all I could think about. I did some more searching, and only having Lady Grey Tea, a unique Twining's blend that is similar to Earl Grey, but has hints of citrus added, I found a recipe for Lady Grey Tea Cookies on the Twining's website.
TWININGS LADY GREY COOKIES
Twinings Tea: Lady Grey
Makes approximately 16 cookies.
INGREDIENTS
• 1/4 Lb (4oz stick) Butter
• 1/2 cup (4oz) Sugar
• 4 Tbsp (1/4 cup) water
• 4 Lady Grey teabags
• One Large Egg
• 1/2 tsp baking powder
• 1 1/2 cups All Purpose Flour
• 1/2 tsp Lemon zest (grated lemon peel)
METHOD
• Mix (by creaming) Butter and Sugar until light in color
• Blend in egg and zest until completely incorporated.
• Add Lady Grey concentrate: Place the Lady Grey teabags in a teacup and cover with a 1/4 cup of water, freshly heated to the boil. Brew for 3 minutes, remove teabags remaining tea concentrate should equal about1 Tablespoon. If not squeeze a little more out of teabags.
• Add flour gradually until dough is formed.
• Cover and refrigerate 6 to 12 hours.
• Work cold dough (on a floured board or pastry cloth) shaping into a long 1 1/2 inch diameter stick of dough. Slice into 1/2 inch thick pieces.
• Place pieces on a clean cookie sheet pan
• Bake at 350° F for 12 to 15 minutes until lightly browned.
• Remove from oven, and let cool.
• Sprinkle with powdered sugar
Check out next Monday for another recipe of the week on theroguenews.com!
View Comments (2)