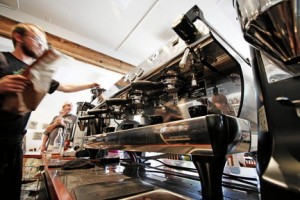 Ready for a win win Friday? "Perk Up" with the over-caffeinated coffee house craze and help your school at the same time! How? Simply go to Noble Coffee this Friday, December 2 and they will donate 10% of all purchase to the Ashland Schools Foundation.
This is part of the monthly series Ashland Schools Foundation and local coffee shops have collaborated in to raise money for the kids of Ashland. Last month, it was the Roasting Company, who reported one of their best days on record due to the support of the community in "Perking Up" for a cause.
A little on the generous donor: Noble Coffee was established in 2007 in a garage. The café opened in 2009 and has come a long way to allow the people of Ashland and visitors to enjoy their locally hand-roasted beans, making coffee and its preparation an art form. Their 100% organic products keep their costumers coming back again and again.  They have become the central hub in Ashland, from Hipsters to Hippies, the retired to the working college student can all be found within the inviting atmosphere Noble provides. Noble Coffee hopes to see you this Friday and The Rogue News Staff  invites you to spread the word to support a local company and your own school and education. Coffee suggestions? AHS favorite, the Daydream blend.