Jane Takeda Cooks in a Finnish Restaurant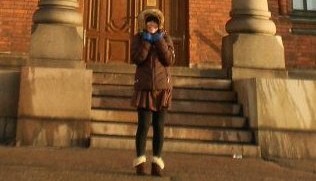 The Following article is our latest installment in the series "Ashland High School Abroad", and is written by AHS junior Jane Takeda from her host school in Finland.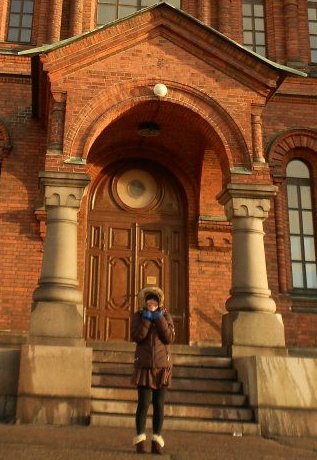 Greetings from Finland! Everything is going well here!
For these past two weeks I have been studying at the nearby vocational school. It turned out to be a really great experience. My good friend, who is here on exchange from Germany, and I were welcomed into the cooking department at Koulutuskeskus Tavastia, the vocational school based in Hämeenlinna.  We both had an amazing time there. We met many kind and helpful people while we were there, as well as learning some cooking skills.
The cooking department at Tavastia is self sufficient, with an on-campus shop, café and restaurant, where all of the products are sold. My friend and I got the opportunity to work in the kitchen of the restaurant, which is essentially like cooking for a regular restaurant. .
Third year students share the responsibility of cooking.  It was my class' job to work on Fridays. School starts at eight o'clock, but my friend and I almost always arrived at nine, because we had to take to bus from Parola. When we arrived we would change into our cooking cloths- real cook's cloths, pants, shoes, shirts, hats, etc. Then, we would go to the kitchen where we would wait to be assigned a job.
This past Friday I was assigned to help one of my fellow classmates make a chocolate cake for the restaurant. We got along quite well, and soon we were speaking about where I was from, and about my family. Like most people she was surprised to learn that I was from the US – most people think I am Chinese. This took us to the topic of the ethnicities of our parents. As it turns out she is half Finnish half Israeli, her father having immigrated to Finland some time ago.  It was really nice getting to know my classmate, and I am a little sad that my time in vocational school is over, considering I probably won't get the chance to become real friends with most of my other classmates. At the same time it is also relieving to be returning to Lukio, normal high school, because I have missed my friends there a lot.
There were pros and cons to taking time away from my normal studies to study at the vocational school. However, the experience was well worth it. I learned a lot about the Finnish school system and I was able to make the acquaintances of some amazing people.
Leave a Comment