2012 Girls' Tennis Team makes a statement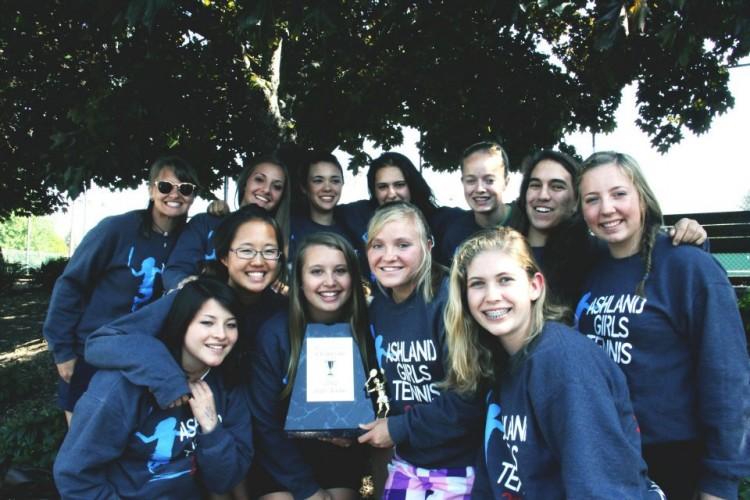 It all started off with a few major changes to the tennis program at Ashland High School. The junior varsity teams were banished due to budget, and a new coach gripped onto the girls' team. For the AHS girls' tennis program, there was no more messing around this year. It was time for the team to make its statement as a successful sport at AHS.
The Ashland Girls' Tennis Team pulled through an almost entirely rained-out season with a match record of 9-2 including tournaments. At the district tournament on May 7 at Hunter Park, nearly every player managed to get to the third round, and everyone scored points for the team. Hanna Greenberg, Vika O'Brien, River Davis and Ashley Knecht made it through the third round and went on to the district finals in Eugene and claimed the title of District Champions for Ashland.
The State Championship was another story. The four top-scoring Ashland players from the district tournament fought hard against 37 other Oregon schools, 20 of them being 5A. Sophomore Greenberg and freshman O'Brien won first place in doubles for the entire state of Oregon.
"Winning state was surreal," Greenberg said. "It was a very fun experience and showed that all of our work during the season paid off."
Singles players Davis and Knecht both scored points for Ashland as well. With all the points tallied up, the Ashland girls' tennis team got second place at state.
"This season went better than I could ever imagine," senior doubles player, Jennifer Fine, said. "I'm really proud with how well we did; I've never had a team do so well in districts and state."
What is the cause for the sudden success in the tennis program? Most of the girls on the team believe they can lay their accomplishments in the hands of Gail Patton, a tennis pro at the Ashland Tennis and Fitness Club.
"Watching team members improving their skills and developing sound tennis strategies as the season progressed was my highlight as a coach," Patton confessed." That goes along with having all 12 players win matches at the district championships."
With the tennis team having the desire to improve as well as a valuable coach continuing to perfect the team, there may be a chance to win it all in 2013.
.
Leave a Comment