Plan a Holiday Movie Night!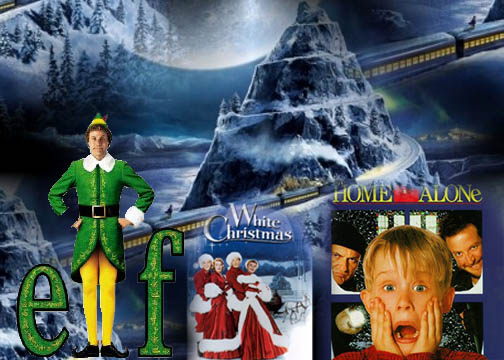 Have you turned on the television recently? Almost every classic holiday movie should be on 24/7. The closer Christmas inches towards us, the more holiday spirit people want to experience. The movies are one excellent place to look. There is an extensive list of movies people watch this season, but at Ashland High School the list is pretty interesting. I went around the AHS campus this past week as we near Winter Break, and asked 75 students which movie they watch the most at Christmas time. Here are the results.
AHS FAVORITE HOLIDAY MOVIES
Nightmare Before Christmas: 40%
Elf: 20%
Polar Express: 10%
Home Alone: 10%
Santa Clause: 5%
A Christmas Story: 5%
Scrooged: 5%
Die Hard: 3%
White Christmas: 2%
Said Spencer F, "I was in the show White Christmas last winter, so I kind of had to watch it".
I also asked teen's about their parents- do they watch the classic movies?
Yes, they resoundingly responded. Said Alyssa M, "My mom watches A Christmas Story which  runs throughout the entire day and night of Christmas Eve; she usually watches it three times before  she finishes wrapping".
Then I went around downtown Ashland this weekend to the plaza and asked 100 random adults (20 years and older) what their favorite movie was to watch at Christmas time.
ASHLAND'S FAVORITE HOLIDAY MOVIES
White Christmas: 30%
A Christmas Story: 20%
Scrooged: 10%
It's a Wonderful Life: 10%
The Bishop's Wife: 10%
Miracle on 34th Street: 10%
Holiday Inn: 10%
"I always like to watch those weird Lifetime movies that no one has ever heard of. They are usually quite odd, but it keeps me entertained." Tina S.
If there is a snow storm- which seems to be heading towards Ashland quite soon- and a cup of hot chocolate then you have a recipe for watching those oh-so-loved holiday movies. Have a great holiday season; keep it alive with the classic movies that will be playing all through January…
Leave a Comment