War Eagle! The Auburn Tigers are the 2011 BCS National Champions. In a nail-biting finish, Auburn kicked a clutch field goal with two seconds remaining, to beat the Oregon Ducks, 22-19. And the SEC reigns as the supreme conference in NCAA football, winning their fifth consecutive national title. Oregon had their chances, but failed to convert on a fourth down run from the one-yard line that would have given the Ducks a lead in the third quarter. Oregon's new highlighter-colored jerseys were about the only flashy thing in this game. Their high-octane offense was out of synche and star running back LaMichael (which is Spanish for "The Michael") James ran for only 49 yards.
Even Cam Newton's performance was unspectacular. It was freshman running back Michael Dyer, who carried the load for Auburn, rushing for 143 of the team's 519 yards of total offense. He was awarded the offensive player of the game for his performance, which will be remembered by one definitive play in the game-winning drive. Dyer appeared to be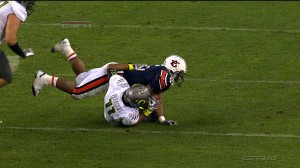 tackled, but after stopping for a brief moment, continued running for a 37 yard gain. The play was not called dead, and after an official review, it was ruled that Dyer's knee was not down. This debatable run led to the game-winning field goal. On defense, Auburn defensive tackle Nick Fairley dominated the game, stopping Oregon's option read while accumulating three tackles for loss and one sack.
For Chip Kelly, it is back to the drawing board with his Oregon team. This game was the first loss of the year, a disappointing finish to the season. But the future is bright for quarterback Darron Thomas and company. In pre-season polls, the Ducks are predicted third in the nation next season, even losing critical players on both sides of the ball.
Both teams executed perfect game plans, slowing down two dynamic offenses that appeared unstoppable for most of the season. In the end, Heisman winner Cam Newton finished a controversial season on top– as a champion.