Simon Jensen: The Great Dane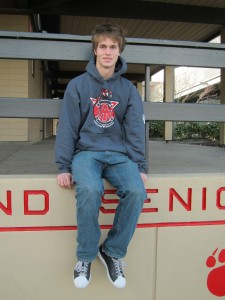 This past August, Simon Jensen stepped off a plane to be greeted by his host family. Jet lagged and unaccustomed to American culture, the Danish exchange student faced an eleven month journey that would teach him about being a teenager in the United States and the culture that comes along with it.
Seven months later, Jensen feels at home in his new country, but is still able to remark on the differences between his original home and his current one. Though he had no trouble making friends, Jensen admits the he feels that he has less freedom in his new environment.
"It's not strict," Jensen says, "but the culture is just different and family seems to mean more here [than in Denmark]." Jensen also points out that he has learned new ways to be social in America, where the drinking age is 21 rather than 16. Assuring that he still enjoys socializing in America, he adds "it's still fun, just different." At first, Jensen couldn't think of a single thing he didn't like about America, but later joked that Bryce, his host brother, could make the list.
Jensen has found his place in sports at Ashland High School. Immediately making Ashland's varsity soccer team this fall, Jensen has now joined Medford's club soccer team for the winter and plans to join the track team this spring.
When asked what made him the most homesick, Jensen responded "Christmas, because we have bigger celebrations in Denmark." All exchange students find it hard to be away from home at some point or another, and Jensen says that although he will be excited to go home, he also doesn't want to leave.
Leave a Comment