Ashland's Youngest Marathoner
At 8 o'clock AM last Saturday, sleet poured down on 183 runners as they lined up in Lithia Park for the fourth annual Lithia Loop Marathon. Among the crowd stood Cory Dalcin, an AHS Sophomore, cross country athlete, and the youngest runner to ever participate in this notoriously difficult endurance challenge.
The Lithia Loop, a 26.2 mile trail race, begins at the band shell, then winds around the reservoir and up the 2060 fire-road towards Horn Gap Trail, ascending 2700 feet. The course then transverses a section of the Siskiyou mountains, until it begins its 6-mile descent into Lithia Park at Four-Corners. It's no run-of-the-mill marathon.
This year's frigid November weather made the race all the more difficult. By the time Dalcin reached the head of Horn Gap Trail, it was below 30 degrees and snowing. From there it only got worse. As the trail continued to climb, four inches of snow accumulated on the ground.
"At times it was sort of hard to see." said Dalcin. Plus, his hands were in agony from the cold, even though he wore gloves. Fifteen miles in, (equivalent to the distance between Medford and Ashland) Dalcin's iPod broke. From then on, the race became a true mental challenge.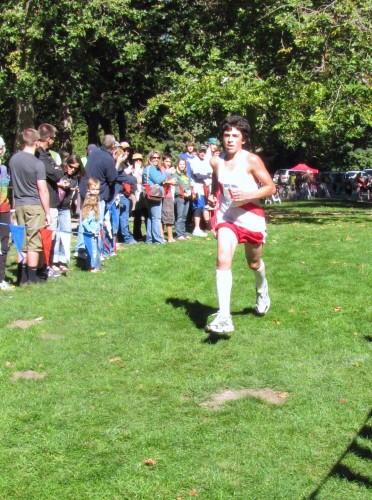 What would make someone want to subject themselves to such a mental and physical challenge? "It was kind of a spur-of the moment thing." Dalcin answered. The idea came to him in October after he completed a 20-mile run, something he hadn't believed  he would be able to do. After that, he began supplementing his rigorous cross-country training schedule with long-runs every Sunday. Often, this involved getting up the day after a 5k race and plugging in between 20 and 24 miles. By race-day, the training payed off. Despite the tough climb, harsh conditions, and broken gear, Dalcin finished the race in a time of 4:52:48, accomplishing his goal of breaking five hours.
The experience may sound like some cruel and unusual form of torture, but when asked about how the race went, Dalcin's reply was that "Overall, it was fun. It was a good accomplishment."
Dalcin's next running goal: to compete in the Siskiyou Outback 50 kilometer ultra-race in July of 2012. Later on, he hopes to continue running long distances for fun, even after the High school ends.
Leave a Comment