Oregon Polar Plunge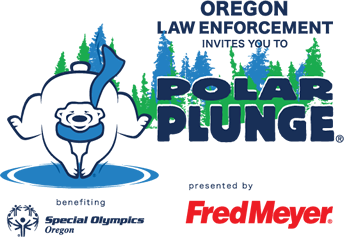 Do you like to help others? Are you good at raising money? Are you always the first person to try something new? Have your friends ever called you "crazy" or a "daredevil"? If you've answered "YES" to any of these questions, you're the perfect candidate for the Oregon Polar Plunge.
Polar Plunge is when thousands of people from all around Oregon run into icy cold water in to raise money for Special Olympics Oregon. As a "plunger" you register to participate in one of the five plunges around the state. You may choose to join a team, or you may participate as an individual. You then raise a minimum of $50 in pledges from friends and family. But the more you raise, the more incentive prizes you get! On plunge day, you either run or jump into the water and get out as fast as you can. You can decide how far you want to go in, so there's no pressure to go extremely deep into the water.
The Polar Plunge happens every year in Oregon, and this year it's on February 3rd at the Jackson Aquatic Center. If this sounds like something you'd like to do, go for it! You could also choose to gather up all your friends and start a team. The Oregon Polar Plunge is an amazing event that's done for fun and to raise money for a great cause!
For more information about the plunge, videos and photos of past "plungings", and online registration, please click the link below.
http://www.plungeoregon.com/video-photos.html
http://medfordplunge.kintera.org/faf/home/default.asp?ievent=488674
Leave a Comment