AHS Nordic Skiing
Nordic skiing is the quintessence of fun. When the average citizen is asked if they participate in nordic skiing, the common response is: "Nordic? Is that like downhill skiing?" This obviously represents that a great majority of society has not experienced the strenuous joy of nordic skiing.
It is also unknown to the common man that AHS has its very own nordic ski team. This team, made up of 12 members, travels around Southern and Central Oregon competing in league competitions at Diamond Lake, Mt Bachelor, Hoodoo, Willamette, and Chemult. The league is part of the Oregon Interscholastic Ski Racing Association that also runs the alpine ski league, and includes teams from Mountain View, Summit, North Eugene, South Eugene, Crook County, Prospect and even Phoenix High Schools.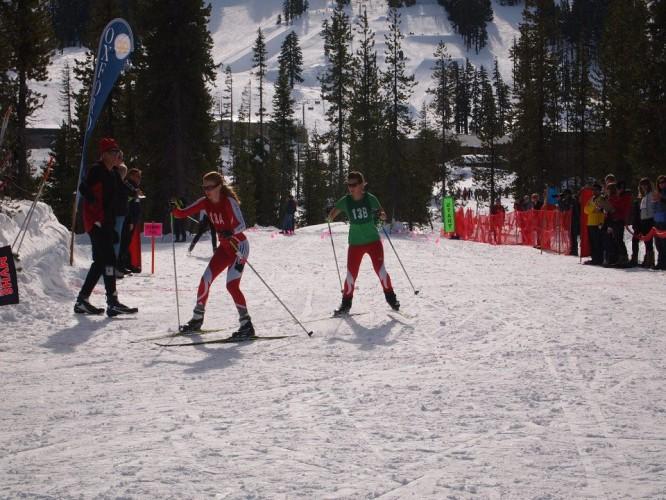 This year, with great improvements in grooming at Hyatt Lake and Buck Prairie, the team has been able to harness the complex technique of skate- similar to rollerblading- and classic, the basic diagonal glide of nordic skiing. Even with the great advancements of the skiers, the team itself does not stand any chance against the 70-plus skiers from Mountain View High School in Bend. Mountain View dominates the league every year, but Ashland still manages to ski hard and have lots of fun.
The league competitions began January 5 at Diamond Lake and will continue through February 9 with districts and a paintball biathlon at Chemult. This all precedes Nordic State February 22 at Willamette. Each league race is approximately 5 kilometers and changes between skate and classic styles at each race.
The team holds an optimistic view at the outcomes of each individual skier as strength, technique and times continue improve. There are high hopes as State nears.
Leave a Comment