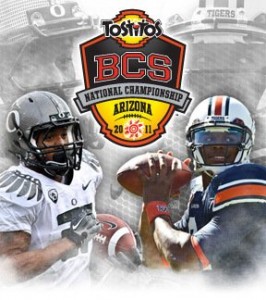 "We going to the 'Natty,'" Oregon cornerback Cliff Harris said after the Ducks' Civil War victory. The "Natty," of course, referring to the 2011 BCS National Championship game. With a 37-20 win over Oregon State, Cliff Harris and the rest of his teammates secured a trip to Glendale, Arizona, to play the Auburn Tigers for college football supremacy.
Now, after more than a month of waiting, the whole country will be watching Oregon and Auburn on January 10th. This year's national championship is not between the usual powerhouses: Ohio State, Florida, Alabama, or USC. It is a unique match-up between two teams that haven't been there before. Who will prove to be the best in the country? Both teams make strong cases, but a variety of intriguing match-ups will decide the outcome.
Amid controversy that he received illegal recruiting benefits, Auburn's Cam Newton still managed to have one of the most successful seasons in college football history. The dual-threat quarterback ran for 1,400 yards, and passed for nearly 2,600 more, winning the Heisman trophy in the process. Newton is a 6-foot-6, 250 pound machine that is impossible to stop. Oregon's defense can only hope to contain him, relying heavily on Casey Matthews and Kenny Rowe. For the Ducks, LaMichael James, another Heisman trophy finalist, leads the nation's most prolific offensive attack with 1,700 rushing yards and 21 touchdowns on the season. Auburn defensive lineman, Nick Fairley, will have the responsibility of tackling James before he gets into open field.
Expect an exciting, fast-paced game. The match-up features two of the highest scoring teams in the nation, and two of the country's best players. The Ducks spread offense will look to capitalize on its speed, while the Tigers hope to take advantage of their size advantage. Look for Oregon quarterback Darron Thomas to be the X-factor. If he can pass the ball effectively and make smart decisions in the option, Oregon will have the edge on offense. If Newton is not distracted by hype about the NFL draft, or his recruiting controversy, he could finalize his legacy as the best Auburn player since Bo Jackson.
What advice will Oregon coach, Chip Kelly, give to his players? The same as always: "Win the day." If the Ducks do this, they will be the 2011 BCS National Champions.
Prediction: Oregon 45- Auburn 41