This season the Ashland Boy's Soccer Team has had a flair for the dramatics. Throughout the year they have overcome losing streaks, fought through overtimes and now are Midwestern League Champions.
Going into Saturday's game against the Springfield Millers, the Grizzlies needed victory to take the league crown. While the mission was accomplished, it was not without the rollar coaster ups and downs that this team has become accustomed to.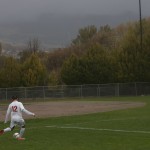 After controlling play from the start Ashland pulled ahead early when Lars Filson scored in the 15th minute. As rain fell Ashland continued to keep possession through the first half, but they could not add an insurance goal.
The Grizzly defense finally broke in the 65th minute and the game was tied 1-1. Despite numerous late opportunities, Ashland could not find a way to score and the game headed to overtime.
For the third straight game Ashland needed extra time, and for the third time an early goal led to a Grizzly win. After a handball was called on Springfield deep in their own territory, Ashland capitalized. Graycen Kennedy chipped the ball in and senior co-captain Cole Coster scored what turned out to be the game winner.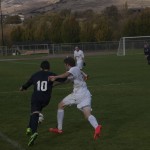 A nerve racking 15 minutes ensued, highlighted by a leaping save by goalkeeper Tejas Leier Heyden, but the final whistle eventually blew signifying an Ashland victory and a league championship.
After losing their first three games the Grizzlies have come back fighting. Now they have won nine of their last ten games with one game remaining. Tuesday Ashland played South Medford in their final game of the season and fell 3-2. The game had little implications as the win over Springfield clinched a playoff spot.
The Grizzlies will host a first round playoff game November 5.