On Their Way to First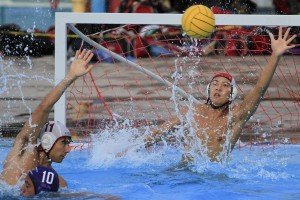 This past weekend the Ashland water polo team beat their archenemy, West Albany, in a fiery show down. Last year the Ashland water polo team took second place in the State after years of holding first. The loss was heartbreaking for the Ashland water polo team. Even losing all their senior starters the year before was no excuse to coach Christi Gilmore for the team to do less than the best. This year the water polo team exploded into a new season ready to take their true title of first place champions.
Starting immediately with the season's onset, Christi put the team into two weeks of stressful, arm-burning twice-a-day practice. The team embarked on a long trip to Roseville, California to take-on some of the best high school players in the US and in the end took 5th place out of 16 schools, which is an impressive feat for an Oregon team. After  several more weeks of training and weekends of tournaments, they were prepared to take on West Albany and beat them 13 to 7.
West Albany is the only competition in the state for Ashland water polo so the Grizzlies are quite assured that the state title this year is theirs. Yet, instead of being cocky, they have decided to take this great win with a grain of salt and continue to train hard, as they yell their battle cry, "Grizzzz! lybears."
Leave a Comment