Born in Hawaii, Hoku Eggertsen has always been a committed water enthusiast. He grew up spending a lot of his childhood around or in the water. "Water is definitely on my top ten list for life" said Hoku. But when he began entering the pool for a reason, his whole mind-set took a more serious approach.
Eggertsen began playing water polo in his freshman year of high school. His first day in the pool was like "a caged animal being released into the wild for the first time." said Christ Gilmore, his former coach. He was not immediately one of the strongest players on the team, but once he realized his natural affinity for aquatic sports he decided to buckle down and fully immersed himself with the sport in every way possible.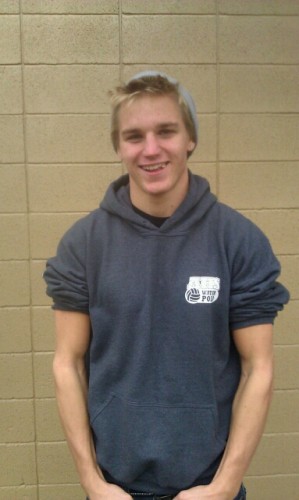 Since his first day of his water polo career he has put the pool before anything else in life. "I work out at least two hours everyday in order to get stronger, and everyday I go to pool ready to give it my all" says Eggertsen. This year, his junior year, Eggertsen made first team all-state and helped lead his team to a state championship. He tried out for Olympic Development Program Pacific Northwest Zone Team, in early November and was one of the stand-out players. "I don't know if I made the team or not, but all the coaches seemed to take interest in me so my chances seem pretty good" said Eggertsen.
Cole Harding, another member of the team said, "I don't know where we would be without him, he has really come out of his shell and been a great asset to the team this year and I look forward to playing with more next year."
This summer he plans to expand his water polo horizons by joining the Chehalem club team in Portland and practicing with them for six hours daily. "I hope to really improve my whole game this summer so I can bring back my experience and maybe lead our team to another state championship," said Eggertsen. He has already talked to the Olympic Development Program coach and they plan on really implementing him in their strategy when they compete in the annual Junior Olympics in Southern California.
After high school he plans to play in college. "If I'm lucky and I raise my grades, I really would like to play for Occidental," an NCAA Division III team which is highly competitive. "If everything goes according to plan, I'll be able to come back next year, win another state championship, get into Oxy, and help them to win the Division III title" said Eggertsen.
Hoku Eggertsen is a man with a plan on the fast track to doing great things for Ashland High School.