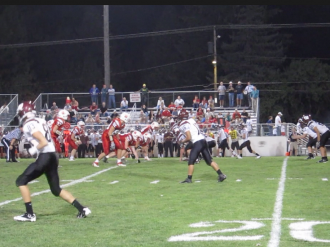 With a 21-0 lead at one point in the first quarter, Ashland High School's annual Homecoming game was quite the shellacking.
Ashland delivered blow after blow to the Willamette defense with Jon Volz's 200 rushing yards and three total touchdowns and Danial White's 83 rushing yards and 90 passing yards. The steam-rolling Grizz offense piled up 462 total yards in Friday night's electrifying 49-12 win over Willamette at Walter A. Phillips field. However, this was not a one sided effort, with the defense playing a stout, bend-but-don't-break style by giving up only 12 points and 356 total yards. Star sophomore linebacker Mason Montgomery shared his thoughts on the game.
"They were a good team, but we proved to everyone how much potential we really have," Montgomery said.
After pulling out a close victory in Eugene last week against the Churchill Lancers, Ashland came back with this victory in front of their home crowd. Aside from the huge numbers put up by Volz and White, the offense did not have any other huge performances stats wise, but they had a balanced receiving attack, with five wideouts catching at least one pass. Senior Taylor Humphrey was the leading receiver with three grabs for 38 yards and a touchdown.
The secondary on for the Ashland defense caused mayhem for the Willamette pass attack with two interceptions. This adds to the already stellar outing in which they allowed a season low 12 points.
One of the highlights of the night was a 29 yard touchdown connection between White and Humphrey. Humphrey was single covered on the right side and White lobbed up a jump ball to the speedy receiver. The pass appeared destined to be intercepted, but Humphrey elevated up to the ball and wrestled it away from the defender at the 3 yard line to score. Summing up the amount of grit and ferocity the Grizzlies played with all night long.
Overall, it was the team's best performance of the year so far, and they look to continue this two game win streak as they head into two-straight "away" games.